Can I foster?
We're not looking for one type of person. We're looking for people from diverse backgrounds with different life experiences.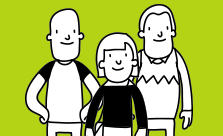 Foster carers should have one thing in common: a commitment to providing a nurturing and secure home to help young people grow and develop.
Fostering criteria
21 years old and over
Have a spare bedroom in a safe, secure home
Foster carer qualities
Energetic, confident and want to make a difference to young people's lives
Relevant experience and a genuine desire to work with young people
Patience, a sense of fun and flexible
Ability to work as part of a team
Types of foster care
Emergency - This is when young people need somewhere safe to stay for a short time, at short notice. This is usually for a few days.
Short term - This is when young people need to be cared for short-term, while plans are made for their future. This is usually for a few weeks or months
Long term - This is when young people need to live away from their birth family permanently. Carers will normally offer them a home for the foreseeable future
Respite - This is a fostering placement that's regular but time limited. A respite foster might care for a child for a week or 2 at a time. For example, during school holidays or at weekends or when things get tough at home and the child needs a break away to spend time with a carer they've a positive relationship with
Supported care - It's not just children who need fostered. We also need foster carers for young adults age 16-21 years. This is called supported care. Supported caring is similar to fostering, providing a supportive family environment, stability and support to young people as they move towards independence
What do supported carers do?
Help young people develop practical skills needed to run a home such as cooking, budgeting and cleaning
Encourage them to build a healthy productive routine and sustain work, training or education placements
Listen and provide emotional support when needed
Support young people to develop a positive social network and lead an active, fulfilling life
Have a non-judgemental attitude and respect the young person's right to privacy, dignity and freedom of choice
Last modified on 2 June 2021