Launch of LGBT+ Youth Helpline to support young people in East Renfrewshire
East Renfrewshire Council opens a LGBT+ Youth Helpline in partnership with East Renfrewshire's LGBT+ Youth Group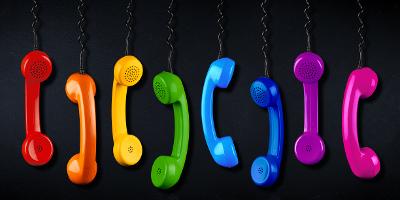 Published: 22 February 2021
The text helpline (07792 661182) has been set up as part of LGBT+ history month celebrations, and will offer information and support for lesbian, gay, bisexual and transgender young people, those questioning their sexual orientation or gender identity and their families, friends and supporters.
Text messages will be answered on Mondays and Thursday from 7-9pm, messages can be left out with these times and will be replied to as soon as the helpline is next open.
Supported by East Renfrewshire Council Youth Workers and Community Learning and Development staff, messages received will be answered by members of the Youth Group. Each message will be read by a member of staff, who will match it to the profile of a young person to answer or provide information. This will then be checked by a member of the team before a response is sent back to the user.
Councillor Colm Merrick, Convener for Community Services and Community Safety, said: 'We are committed to supporting young people across our local authority so I am delighted to hear of the dedication and hard work from our LGBT+ Youth Group to launch this helpline. The group thought of the idea of a helpline during the first lockdown after they realised that there was no instant, youth friendly contact method for young people who had questions or wanted information about LGBT+. In these challenging circumstances where face-to-face support is not available, it's vital that our young people and their families still have access to the support that they need. I would encourage anyone looking for advice or support to contact the helpline on 07792 661182.'
Councillor Paul O'Kane, Convener for Education and Equalities added: 'This is such an important initiative which will be welcomed across East Renfrewshire especially by many young people who may be looking for support. Our LGBT+ Youth Group already do such a fantastic job campaigning on LGBT+ issues and supporting others, so I am really grateful for their efforts in getting this helpline up and running. I know that it can be difficult to speak out and ask for advice but please remember you're not alone, this helpline is a safe space where you will be listened to. No matter what remember that things get better and people are there for you.'
The group aim to continue the helpline beyond lockdown and add to the support already provided for LGBT+ young people in East Renfrewshire.
Last modified on 25 February 2021