Scottish Housing Day: Council commits to climate change
Balgraystone Road site progressing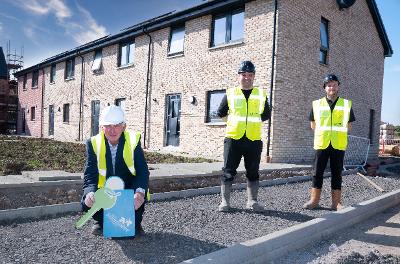 Published 15 September 2021
We marked this year's Scottish Housing Day with a visit to the latest council house development site on Barrhead's Balgraystone Road.
The 47-home development is being delivered in partnership with Glasgow-based contractor CCG (Scotland) and consists of 6 one-and-two-bedroom wheelchair adaptable flats, 12 two-bedroom flats and 26 three-and-four-bedroom terraced houses designed by MAST Architects. Works began in October 2020 with the first handovers set to take place later this year in advance of an early-2022 completion.
This year, the focus of Scottish Housing Day is housing and the climate emergency and this is at the forefront of our priorities for housing.
All of these homes have been constructed using CCG's enhanced 'iQ' Timber System, a structural timber frame solution that combines with modern construction methods to create dwellings that have improved airtightness and thermal performance characteristics. This results in a vast reduction in heat loss with lower energy demand contributing to lowering carbon emissions and generating annualised savings on energy bills.
This innovation is contributing to our Get to Zero strategy where our goal is improve the energy efficiency of our homes as well as other tenures across East Renfrewshire.
The Get to Zero strategy also includes:
the development of a new local housing strategy
over £11million investment in the next five years to improve the energy efficiency of our tenants' homes
adding to the £900,000 funding already secured from the Scottish Government's Housing Energy Efficiency Programme to provide energy improvements to owner-occupier homes
achieving, and exceeding, the Scottish Government's Energy Efficiency in Scottish Social Housing targets
recruiting an Energy Cost Advisor for tenants and residents
continuing to work with developers on enhancing the specification in new build properties to make them more energy efficient.
East Renfrewshire Council Housing and Maintenance Convener Danny Devlin said: 'It is fantastic to see the progress that has been made here in Barrhead in what has been the most challenging of times. These high-quality new builds will soon provide much-needed homes to tenants and families, so I look forward to seeing the works complete in the coming months. The technology used in these energy efficient houses will reduce heating costs, making a big difference to our tenants. We are fully committed to improving our tenants' homes and supporting owner-occupiers and other tenures to improve energy efficiency, which will ensure all residents in East Renfrewshire can live in warm comfortable homes at affordable energy costs. The 'Get to Zero' strategy also demonstrates our drive and commitment to support the Scottish Government's targets for Climate Change.'
Last modified on 20 September 2021