Warm and Welcome Spaces available across East Renfrewshire
Warm, welcoming spaces are now in place throughout East Renfrewshire, providing support to residents tackling the Cost-of-Living crisis.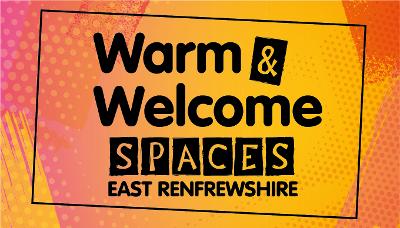 Published 10 November 2022
Led by a wide range of community organisations and groups, these spaces are open to residents who wish to access support and advice, participate in activities or simply spend time somewhere warm.
These spaces include:
All 10 East Renfrewshire libraries
Barrhead Foundry, Eastwood Park Leisure and Neilston Leisure Centre
Community halls - check availability of individual venues
The Community Hub, Barrhead
Neilston Development Trust
The Market Place, Newton Mearns
Cosgrove Care, Giffnock
A detailed online directory is currently being compiled and can be found on the Community Hub website. This will include information on when the spaces are open and what support or activities will be available. All community groups and organisations offering warm and welcome spaces are encouraged to add their details via the 'add a listing' button at the top right of every page.
To support these local initiatives, we've a fund of £100,000 available so places can extend hours, heat their buildings and provide refreshments and activities to those who may visit.
Groups and venues can apply for up to £2,000 at a time. Read about this fund and find out how to apply. A decision on applications will be made within ten working days.
Council Leader Owen O'Donnell said: 'Groups and organisations in East Renfrewshire do fantastic work helping those in need, so I'm delighted that these spaces are in place and that we're able to offer them this funding, which will allow them to do more. It is really important that our approach for Warm and Welcome Spaces is community-led, allowing our residents to choose what would suit them best. So whether you want to sit and have a cup of tea in the warm, take part in activities or access money advice, this funding will provide something for everyone.'
Ruth Gallagher, Chief Officer of Voluntary Action East Renfrewshire said: 'Thanks to the amazing collaboration across our third, public and independent sector partners, we've been able to gather initial information that begins to map out the spaces and places already used by our communities; spaces where we come together to socialise, learn new skills, participate in hobby activities and access support services. Everyone may need a little bit of extra support at some point in their lives, so whatever your circumstances, it is okay to ask for help. If you'd prefer to talk with someone about what information or support you may need, please call The Community Hub on 0141 876 9555.'
This funding is part of the £4.4million package of support measures to help residents tackle the Cost-of-Living crisis and is provided by the Scottish Government to support pandemic recovery and renewal.
There is no closing date however there will be a phased approach to the fund, with the first stage running until 15 December. This will allow a review of how the first phase has worked, ensuring the fund reaches those most in need. The second phase will open 10 January.
Last modified on 7 December 2022