Final piece of East Renfrewshire's nursery expansion complete
Overlee Family Centre set to open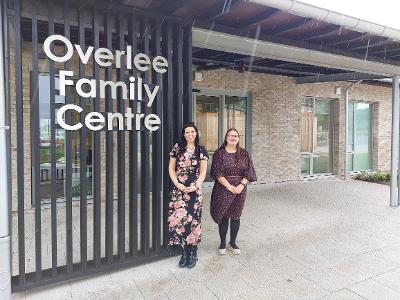 Published: 13 August 2021
The final piece of East Renfrewshire Council's expansion of nursery provision in the area is complete - as the sixth new facility gets set to open.
Overlee Family Centre, in Clarkston, will start welcoming children through its doors on Wednesday 18 August.
As the last of six new nursery facilities to open, Overlee Family Centre will now support the council's roll-out of increased free childcare for all three and four-year-olds and eligible two-year-olds.
The state-of-the-art facility, which will operate for 50 weeks of the year, provides large play rooms, a quieter rest zone area, a baking area for the children and dining space.
The fantastic facilities also allow children to take part in a range of outdoor activities, with a boot room, toilets accessible from the outside area and plenty of outdoor spaces to explore, as well as the wider opportunities provided by being located within Overlee Park.
With a capacity for up to 120 local children, the new facility also has an area for use by the community and changing rooms for community sport, which replaces the dilapidated park pavilion, which has now been demolished.
Councillor Alan Lafferty, Convener for Education and Equalities, said: 'We have made a significant investment in providing these fantastic new facilities, which will now provide local children with access to a wonderful learning environment. Our expansion plan is much more than just facilities though, as we have also invested heavily in our staff and training to ensure that everything is in place to offer a truly excellent experience for all. I'm delighted Overlee Family Centre is set to open its doors and look forward to seeing the children settling in to their new surroundings.'
Overlee Family Centre Head Teacher Anne Marie Castro added: 'It's so exciting to be at Overlee Family Centre right from the very beginning, and I'm so looking forward to meeting all the children and families. I'm passionate about early years education and I love seeing children develop at this very earliest stage of their learning journey. The new facility will provide us with fantastic opportunities for learning, with the woods right on our doorstep and, of course, the bat house - which I'm sure the children will be fascinated with. The extension of hours across early years will give us more opportunity to really get to know all the children and provide activities to really stretch their imaginations.'
The six new nurseries are an integral part of the area's commitment to expanding its early learning and childcare provision.
Local authorities currently provide 600 free hours a year and this is being increased to 1,140 by the Scottish Government, which is in effect a rise to 30 hours per week, matching the time children spend each week in primary school.
In addition to the Overlee facility, the new nurseries which have already opened are a replacement for Glenwood Family Centre, two new centres within the grounds of Busby and Eaglesham primaries, a new nursery class at Cross Arthurlie Primary and Crookfur Family Centre.
Last modified on 25 August 2021