Changing Places Toilet facility unveiled in Rouken Glen
Fantastic new provision in park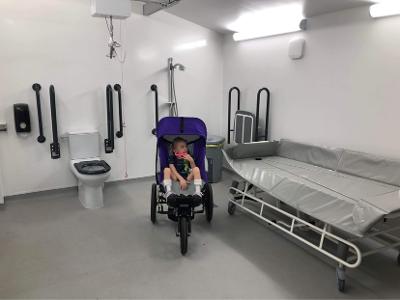 Published 16 August 2022
We've opened a state-of-the-art Changing Places Toilet facility in Rouken Glen Park, allowing people with profound and multiple learning disabilities or with physical disabilities, a safe and comfortable space to use.
The new facility, which includes a free-standing adult sized bench, ceiling track hoist, peninsular toilet, accessible shower and colostomy shelf, can be found to the right of the park's pavilion building and accessed with a Radar key.
This project, which also includes a new baby-changing facility and upgraded public toilets, represents a significant investment and highlights our commitment to providing high-quality, inclusive and accessible facilities throughout East Renfrewshire.
East Renfrewshire Council Leader, Councillor Owen O'Donnell said: 'Having to think about toilet facilities when we're out socialising, shopping or attending appointments is something lots of us take for granted, but for those with profound and multiple disabilities, it is something taken into consideration every time they leave their home. So I'm really delighted that we now have a Changing Places Facility in Rouken Glen which will allow more people to enjoy our fantastic park, knowing that suitable facilities are available for them and their carers to use.'
PAMIS (Promoting A More Inclusive Society) lead the Changing Places toilet campaign in Scotland and co-chair the UK Changing Places toilet consortium.CEO, Jenny Miller said 'Families are continually telling us that they would like more Changing Places toilets in large, outdoor spaces and parks. We are pleased to have registered Rouken Glen's new facility, which means that families from all over Scotland will now be able to travel to the country park and enjoy a day out without having to worry about the basic human right of going to toilet.'
Last modified on 2 September 2022