Barrhead resident honoured as East Renfrewshire Citizen of the Year
A Barrhead resident who goes the extra mile to provide a lifeline service to the local community has been awarded with the Provost Award.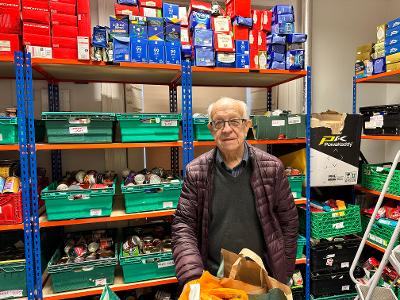 Published: 11 January 2023
The Provost Award is an annual opportunity to honour a dedicated volunteer for their outstanding service, which makes a difference to their community and the lives of others in East Renfrewshire, and crown them as Citizen of the Year.
Stan Esson was named as Citizen of the Year 2022 for his work with East Renfrewshire Foodbank in Lowndes Street, Barrhead which spans almost a decade.
East Renfrewshire Foodbank was set up in early 2013, giving out its first food parcels in September of that year. Stan is a founding member of the foodbank, taking on the role of Warehouse Manager where he has remained for almost 10 years.
Stan dedicates many hours of his time each week sorting donations, organising the storerooms, keeping tallies of all goods - by hand and online, meeting clients and liaising with the Trussell Trust to ensure that everyone who accesses the foodbank gets what they need.
Provost Mary Montague said: 'I'm delighted that after receiving many outstanding nominations this year, and deliberation with the judging panel, Stan Esson has been named as Citizen of the Year 2022 for his work volunteering with East Renfrewshire Foodbank as Warehouse Manager.
'Multiple nominations were submitted for Stan and it was clear he deserved to be recognised, with some describing him as a 'driving force', 'stalwart', 'leading light' and 'the powerhouse'.
'Stan's work in Barrhead and across the local community is absolutely essential as he helps provide a service which so many people increasingly rely on each week. It has been a difficult couple of years due to the Covid-19 pandemic and now the rising cost of living so foodbanks are seeing an ever increasing demand. Stan has continued to go above and beyond to help others during this challenging time.'
'Thank you to everyone who took the time to submit a nomination, we received some brilliant nominations. We're so lucky to have so many selfless volunteers who give up their time to help others in East Renfrewshire.
'I'm looking forward to visiting the foodbank to present Stan with his award and hear more about the vital work he undertakes which clearly makes a difference to the lives of so many people.'
Stan Esson, who has lived in Barrhead for 81 years added: 'It is a great surprise and privilege to be the recipient of the East Renfrewshire Provost Award. I would especially like to pay tribute to our dedicated team of volunteers past and present for their constant hard work and support.'
East Renfrewshire Foodbank is open every Tuesday from 12pm until 2pm and Friday from 2pm until 4pm. A minimum of three days' nutritionally balanced, tinned and dried food donated by the local community is provided.
More information about East Renfrewshire Foodbank and the support that is available is on their website (opens new window) .
Last modified on 24 January 2023