Free or discounted travel
You can apply for a National Entitlement Card for free or discounted travel if you're disabled or over 60.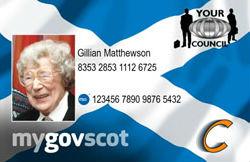 News: extension of the disabled person's National Concessionary Travel Scheme to include eligible disabled under 5's
Transport Scotland will commence the scheme extension on 1 April 2021, meaning parents and guardians of eligible disabled children can apply from this date and access free bus travel as soon as their NEC arrives.
Parents and guardians should contact us for details of the application process. Please note, this process can't be completed online at the moment but is under development.
Service information
Use this service to apply for a National Entitlement Card (NEC) if you're disabled or over 60.
What's a National Entitlement Card?
A NEC gives you free travel on most bus services and discounts on some train and subway fares. It can also be used for a:
bus pass
library card
leisure membership
Before you start
You'll need:
a recent passport sized photo
proof of age such as a birth certificate, passport or photo driving licence
proof of your entitlement
proof of address such as a current council tax bill, a bank statement dated within the past 3 or letter from residential home confirming you live there
How to apply
Age 60 or over
If you're age 60 or over you can apply for Scotland-wide free bus travel.
Applications can be made from 14 days before your 60th birthday.
Once you've filled out your application return it to a post office.
Disabled
Alternatively, you can apply at the SPT Travel Card Unit at Buchanan Bus Station.
What happens next
Once your application has been received with all the correct documentation, your NEC will be issued to your home address within 20 working days.
Please note, due to Covid-19 it may take up to 30 working days to process your application.
Last modified on 13 April 2021